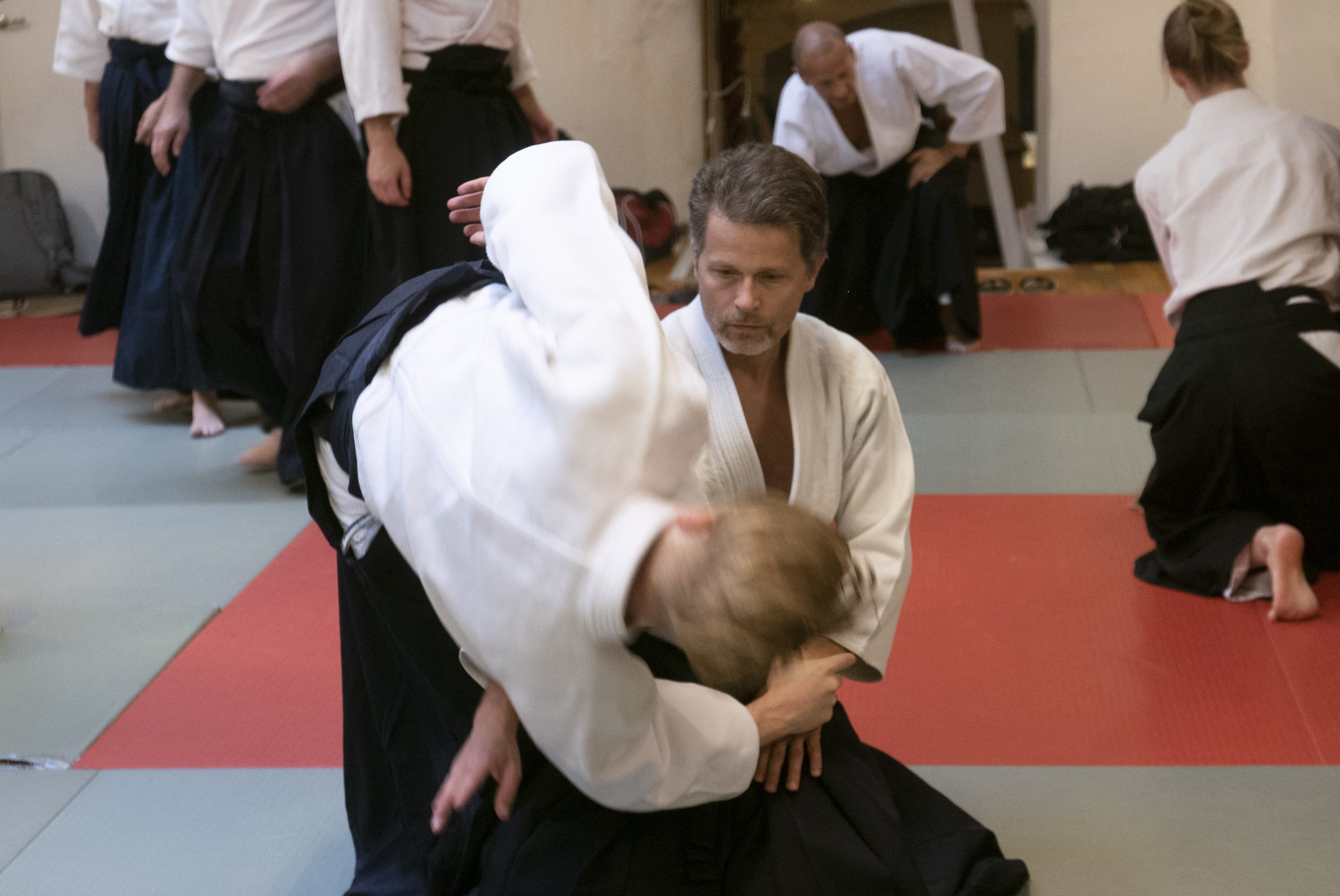 Practice aikido
What is aikido?
Aikido is a Japanese martial art that was developed in the early 20th century by Morihei Ueshiba. He had trained in several of the traditional Japanese martial arts but was dissatisfied as fighting always led to new battles. He sought a budo without winners or losers.
The word aikido is a combination of three Japanese characters; Ai stands for harmony and cooperation, Ki stands for power and energy, while Do stands for the path or rather the practice of the path. Aikido could therefore be loosely translated as "of the path of harmonious power".
Aikido was designed as a kind of self-defense where you never meet force against force, but use the strength of the attack to lead the attack in a movement that becomes a throw or a hold.
However, many people practice aikido for reasons other than self-defense. Aikido training makes you feel good both physically and mentally. Through aikido, we train our fitness, concentration, softness, strength, balance. We do coordination exercises and breathing exercises and learn to fall in different ways.
In aikido we do not compete. Instead, we develop together and each one trains according to his own ability. Those who want to train hard can do it, those who want to train easier can do it. Men and women, young and old train together. The children's groups are separate.
Today, aikido is found all over the world in most countries. In Sweden alone, there are approximately 4,500 practitioners.
The best way to know if you like aikido is to try it yourself. Do it with us!
Vanadis Aikido Club - a short presentation.
Vanadis Aikido is a non-profit association that conducts adult, child and youth training in aikido. The association was formed in the spring of 1994 and since then has operated at the same address, centrally at Odenplan at Västmannagatan 59 in Stockholm. The premises underwent an extensive renovation (2020-2022).
Vanadis Aikido regularly offers children's training (ages 7-15), beginner training and more advanced training for adults a total of 6 days a week, as well as weekend camps at regular intervals.
The club is a member of the Swedish Aikido Federation and thus of the National Sports Confederation, which among other things means that all members are automatically insured through their membership fee. The club is also part of Stockholm's Budoförbund. Internationally, Vanadis follows the direction of Aikikai and is a member of the International Aikido Federation, IAF.
We have many highly rated instructors. Several of them regularly teach around Sweden, the rest of Europe and even the USA.
Welcome!
Our instructors